Building Trust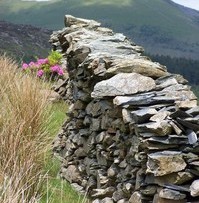 Psalms 40:1-3   I waited patiently for the LORD; and he inclined unto me, and heard my cry. He brought me up also out of an horrible pit, out of the miry clay, and set my feet upon a rock, and established my goings. And he hath put a new song in my mouth, even praise unto our God: many shall see it, and fear, and shall trust in the LORD.
Trust is huge. In the business world, smart companies work hard to build trust- salespeople work to establish trust with potential customers and managers try to build trust with their employees. In politics, would-be politicians try to create a persona that instills trust in the voters. Why? Because you can't convince people or get a commitment from them if they don't trust in you or what you're offering. Most people aren't going to buy into something that isn't trustworthy and rightfully so.
In Psalms 40:1-3 David tells us the story of how God saved him and changed his life. As a result of that change, he says that many people will see it, they will develop a healthy respect for God and through his testimony, be convinced that trusting God is a good thing.
As Christians, we should remember that people have been lied to so much that they aren't going to- and shouldn't- just "take our word for it". The world needs to see living examples of the glory and power of God. When we talk about God and the gospel to people, they are going to watch to see if there is truth to what we're saying. That can be a scary thing because being a Christian doesn't make us without sin or error. We want to be good examples, but at the same time we know that we're still just sinners saved by grace. How can we build trust then?
Walking in Christ
The Holy Spirit is what will convince people of truth and he will also live and walk in us. Our focus each day should simply be to obey Him. He will guide us, give us the words to say and impress on us how to live.
Being Humble
When we mess up –and we will- the best thing to do is to own up to it. Confess to God and then to anyone who was affected by it. People will respect the fact that we're willing to admit our sins and mistakes. The reality is that this very behavior is the gospel in action. Jesus came to save sinners, and when we can admit to another person that we messed up, we're showing the kind of attitude needed to become a Christian in the first place. A proud self-righteous response to failures is un-Christian and people will see right through it.
Speaking the Truth in Love
Being humble and loving people doesn't mean that we agree with everything that goes on and avoid conflict. The Holy Spirit is the spirit of truth and the truth is liberating. It's not always comfortable to speak the truth about issues, but it is vital that we have the courage to do so. Think about what a contradiction it would be to try to win someone's trust by avoiding the truth. Trust in the truth.
David tells us that it was his journey that led others to put their trust in God. We get to follow his example everyday as we live out our own stories. When we let Christ continue to transform us, admit when we fail and speak up for truth in a compassionate way, others will see, come to respect the gospel and put their trust in God as well.